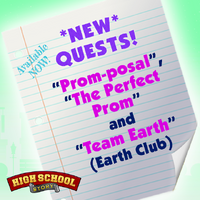 The Prom-posal is the first Quest in the "Prom" Arc in High School Story. It is Time-Sensitive and Premium, becoming available at Level 10.
Story
The main objective is to help Payton plan for Prom, which includes decorating and shopping for dresses.

Quest
Part
Requirements
Duration
Rewards
1
Free Preview!
Spend 200 rings
None
50 books
2
Comeplete a Successful Date with the MC
None
60 books
3
The MC
A Classmate who is Dating the MC
4 hours
8,000 coins
4
Spend 30,000 coins
Decorate!
None
70 books
5
A Girl Cheerleader
8 hours
5,000 coins
6
Change the MC's outfit
None
70 books
7
Autumn
6 hours
5,000 coins
8
Have 10 Flower Boxes
None
80 books
Trivia
The Prom-posal was re-released on the 25th April 2016 and 16th May 2017.
(Next Story Quest) The Perfect Prom >