General
Slackers are a type of classmate, and are unlocked at Level 13. They are a base classmate type, meaning they can be only placed in Slacker Hangouts. Female Slackers are rarer than male slackers.
In-Game Description
Overwhelmed by assigned reading? Freaking out over a test? Every school needs someone who can remind you to stop and smell the roses. Slackers have relaxation down to an art!
Poses
All types have one pose that is unique for their Classmate type. The Slacker Classmate's pose is playing hacky sack with their feet.
Earning Rates
Male
Level 1: 90 CpH
Level 2: 100 CpH
Level 3: 110 CpH
Level 4: 120 CpH
Level 5: 130 CpH
Level 6: 140 CpH
Level 7: 150 CpH
Level 8: 160 CpH
Level 9: 170 CpH
Level 10: 180 CpH
Female
Level 1: 95 CpH
Level 2: 105 CpH
Level 3: 115 CpH
Level 4: 125 CpH
Level 5: 135 CpH
Level 6: 145 CpH
Level 7: 155 CpH
Level 8: 165 CpH
Level 9: 175 CpH
Level 10: 185 CpH
Partying
It is possible to party for a Slacker, but since they are base classmates, it is necessary for them to be obtained by using classmates with a Slacker type.. The Slacker is a base student, so they can be bought in the Store using coins. It is possible to get a Slacker from a party using any combination of students, so long as at least one classmate has 'Slacker' as part of their type.
Party and Admission Lengths
The party and admission time for the male Slacker is 8 hours.
The party and admission time for the female Slacker is 24 hours.
Combination List
Slacker + Slacker
Slacker + Emo
Artist + Prep
Emo + Emo (rare)
Slacker + Dancer
Slacker + Class President
Hipster + Heartthrob
Actor + Prep
Class Clown + Class Clown (rare)
Rarity
The rarity for a male Slacker is 1 star or common. The rarity for a female Slacker is 2 stars or uncommon.
Prices
In the Store, the male Slacker is worth 200,000 coins, while the female Slacker is worth 1500 rings. Since the Slacker is a base type, the more common gender, (in this case the male) is purchasable with coins, rather than rings (the premium currency). When selling a Slacker, the male is worth 1,200 coins, while the female is worth 2,400 coins.
Outfits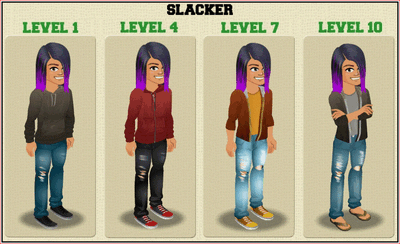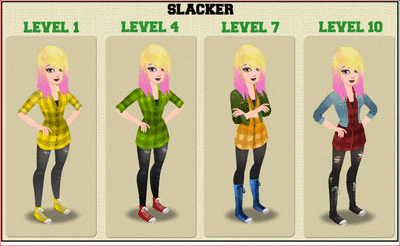 Composed Of

Slackers are a base type.
Trivia
Wes, a main story character, is a Slacker. Wes transfers to your school when Slackers are unlocked.