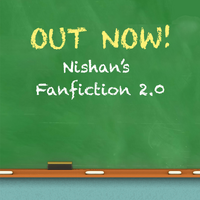 Nishan's Fanfiction 2.0 is the second Quest in the "Nishan's Fanfiction" Arc in High School Story. It is Time-Sensitive and Premium, becoming available at Level 15.
Story
Team up with Agent Nishan, Deadeye Wes, and your favorite All-Star classmates to stop Baron Von Max.

Quest
Part
Requirements
Duration
Rewards
1
Free Preview!
Spend 250 rings
None
11,000 coins
2*
Beckett
   or
A Gamer Except Sakura
10 hours
13,000 coins
3
Chase
   or
A Heartthrob
12 hours
15,000 coins
4
Talia
   or
A Student Gov
14 hours
17,000 coins
5
Spend 10,000 coins
None
300 books
6
Wes
16 hours
18,000 coins
Hints
In Part 2, choose Run to receive 5,000 coins.
Trivia
Nishan's Fanfiction 2.0 was released on the 11th July 2016.