Dating is a Game Feature in High School Story.
Information
Not only will you receive rewards for dating but sometimes it will be necessary to have some couples (or for the MC to be dating someone) to successfully complete some quests. If two Main Story Characters (ie. Julian & Autumn) are dating, their subsequent quest dialogue will become slightly more romantic towards each other.
Gameplay
Each level requires five roses to advance to the next, with a successful date getting one rose. If you get five Great Dates, special effects will play, telling you that you've leveled up. As a couple advances through the different levels of dating, the chances for Great Dates decreases and failed dates increase greatly. However, once they reach Over The Moon, they will not advance any further. A reward is still given. Once you have earned all five roses for Over The Moon, you can still send your characters on dates. But you will not receive anymore roses or rewards.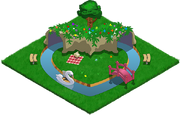 In order to send classmates on dates, you will need to own the Isle of Love building, which can be found in the Store under the "Buildings" tab for 1,000 coins. It is unlocked during Level 4, after you complete the quest, The Party Girl.
Levels
| Level | Duration | Rewards | Salvage Costs |
| --- | --- | --- | --- |
| Flirting | 30 minutes | 500 coins | 5 rings |
| Crushing | 1 hour | 500 coins | 15 rings |
| Online Official | 5 hours | 2,000 coins | 35 rings |
| Sweethearts | 10 hours | 5 rings | 65 rings |
| In Love | 12 hours | 10 rings | 100 rings |
| Head Over Heels | 1 day | 10 rings | 125 rings |
| Over The Moon | 1 day 30 minutes | 15 rings | 150 rings |
Pictures