General Information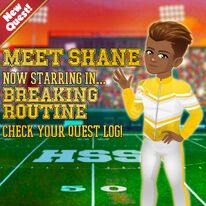 Breaking Routine is an All-Star Quest in High School Story. It introduces the new All-Star Shane.

Quest
Part
Requirements
Duration
Rewards
1
Have 3 Cheerleaders
None
1,000 coins
2
Spend 1,100 coins
None
150 books
3
A Prep Except the MC
A Nerd Except the MC
45 minutes
1,200 coins
4
The MC
15 minutes
1,100 coins
5
A Cheerleader Except Shane
A Cheerleader Except Shane
1 hour 15 minutes
1,300 coins
6*
Have Shane
None
1,400 coins
If you don't already have Shane then Part 6 is time-sensitive, expiring after 7 days.
Please note that even if this quest expires, Shane will still be available for purchase from the Store. Making the purchase beforehand means you'll receive the reward from Part 6 of the quest.
Trivia
Breaking Routine was released on the 9th November 2015.
(Next Story Quest) Say it Again, Shane