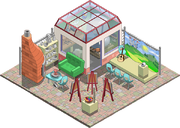 General
The Artist Hangout is unlocked once you reach Level 6 of the game and can be found in the Buildings section of the store. It is one of the nine hangouts that are unlocked with a base character type.
In-Game Description
Long Description: Making an Artist Hangout is easy. Just mix two parts creativity with one part genius... then add a dash of inspiration! This stunning hangout contains all the art supplies and musical instruments your arty Classmates will need to make their masterpieces!
Tagline: Worth a thousand words!
Costs
The Artist Hangout unlocks at Level 6, it can be bought from the Store for 5,000 coins and takes 4 hours to build. Its capacity is three students and holds a maximum of 2,500 coins.
At Level 11 the Artist Hangout can be upgraded for 120,000 coins and takes 2 days to complete. It now holds four students and has a maximum of 7,000 coins.
Classmates
The classmate types that can be placed in the Artist Hangout are as follows:
Pictures